Product Usage:
  PLC transformer oil purifier with touch screen is mainly used for online filtration of UHV transformer insulating oil, mainly processing high voltage and ultra high voltage transformer insulating oil above 500KV-1000KV. This machine has strong vacuum degassing ability and oil-water separation ability , Particle purification ability, removal of acid value, removal of free carbon and impurities, etc. The ultimate voltage resistance of the transformer oil after treatment is high. The automatic part of the equipment adopts Siemens PLC central control system, which realizes automatic vacuum filtration system, automatic constant temperature control system, automatic liquid level control system, automatic defoaming control system, automatic pressure protection system, automatic alarm and other functions in one, high intelligent module The chemical function does not require personnel to be on duty, and automatically filters and purifies transformer insulating oil to ensure high-performance operation of the equipment.
  Features:
  1. Two-stage transformer oil vacuum oil purifier high vacuum system, high pumping speed, high working vacuum.
  2. Adopt two-stage vacuum separation chamber and high-efficiency oil atomizer to increase the separation area and separation time to ensure that the dryness of the oil and the pressure resistance value are greatly improved at one time.
  3. Double three-dimensional flash evaporation, combined with unique and efficient dehydration and degassing components, can quickly and effectively separate the water and gas in the oil.
  4. Multi-stage precision filtration system, impurity removal technology combining molecular adsorption filtration and mesh filter element.
  5. New high-efficiency electric heating system, low heating load, uniform heating, and low energy consumption.
  6. The whole machine interlocking protection device, heater, oil pump, and liquid level controller work together.
  7. The transformer can be dried online and vacuum filtered online.
  8. High-performance oil pumping system, stable oil output under high vacuum, low noise.
  9. Photoelectric foam sensor, automatic defoaming function, to prevent oil injection and oil running.
  Product parameters: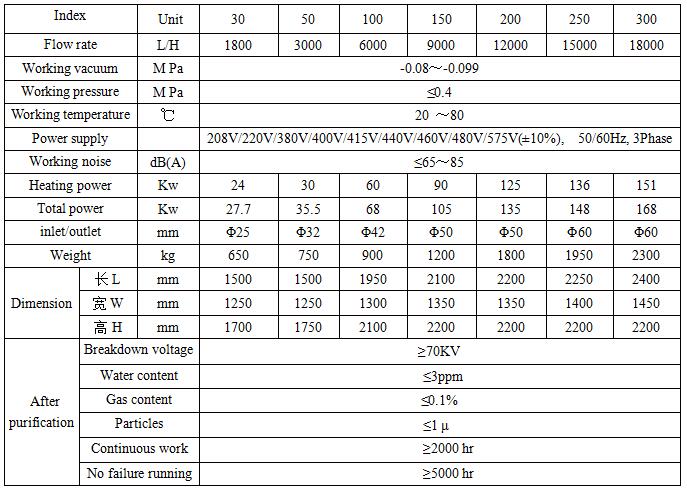 Equipment quality requirements, technical standards: strictly in accordance with the national quality standards, technical standards, inspection standards, after passing the factory, the goods provided are brand new and unused. The whole machine is guaranteed for 3 years. During the warranty period, three guarantees will be implemented for major equipment problems. Any abnormal problems will be handled by the supplier free of charge. If it occurs outside the warranty period, the supplier will provide lifelong free technical services and only charge the cost of accessories.
  Material selection of the whole equipment: the main body of the whole machine is high carbon steel, and the consumables are stainless steel sheet mesh filter materials (which can be cleaned and reused for many times). The main body can choose stainless steel material for oil pipeline according to the user's requirements. Domestic or imported brands can be selected for oil pump and electrical related main components, or explosion-proof is required. Imported filter element or designated brand can be used for filter element.
  Chongqing Zhongjing Filter Equipment Manufacturing Co., Ltd. packing: conventional fumigation packaging for wooden box export, and the equipment meets the requirements of long-distance transportation at home and abroad.
  Equipment transportation mode: automobile, aircraft, ship logistics transportation, the company will replace and repair the goods free of charge until customer satisfaction.
  Chongqing Zhongjing filtration equipment manufacturing Co., Ltd
  Manager Zhang 0086-18580036904 (wechat same number) 0086-02386194345
  Supply cycle: the standard type is available in stock.