Product Usage:
  ZYF explosion-proof transformer oil purifier is mainly used in places that contain flammable and explosive gases and dust, such as electric power, coal, petroleum and chemical industries, and may be explosive. Such as flammable gas, dust environment, oil refinery, petrochemical plant, coal mine, etc. The equipment adopts integral explosion-proof, equipped with explosion-proof motor, explosion-proof electric control box, explosion-proof solenoid valve, etc. Explosion-proof oil filter is especially for the on-site inspection and repair of transformers in large substations above 110KV and the deep purification of high-grade new oil, imported oil, transformer oil, and ultra-high voltage transformer oil. It can also be used for vacuum oiling and drying of transformers. Can live on-site work. This machine has strong vacuum degassing ability, oil-water separation ability, particle purification ability, acid removal value, removal of free carbon and impurities, etc. The transformer oil after treatment has a high ultimate withstand voltage value and provides oil product use efficiency.
  Features:
  1. Two-stage vacuum pumping speed and advanced dehydration and degassing system, using large-area three-dimensional flash evaporation technology, can quickly and efficiently remove harmful components such as moisture, impurities, hydrocarbons, etc. in the oil, and improve the flash point of the insulating oil And compressive strength.
  2. It can meet the requirements of vacuuming and vacuum oiling of the transformer body at the installation or maintenance site.
  3. Precise filtration system, high-quality filter element, multi-stage filtration and step-by-step encryption can effectively remove mechanical impurities in the oil, and it is equipped with automatic detection function of filter element pollution.
  4. Automatic constant temperature control system, automatic liquid level control system, automatic defoaming control system, automatic pressure protection system and sophisticated configuration ensure high-performance operation of the equipment.
  5. The whole machine is equipped with interlocking safety protection, interlocking oil discharge system, vacuum system and heating system.
  6. Equipped with filter element replacement instructions, filter element saturation shutdown device.
  7. Equipped with leakage and overload shutdown device to protect the motor.
  8. Equipped with phase sequence and phase loss protection functions, and safety control for sudden shutdown.
  9. Equipped with an external connection to vacuum the transformer.
  10. With oil in and out interchange function.
  Transformer oil decolorization regeneration tank uses a special purifier to regenerate and purify unqualified transformer oil, mutual inductance oil, switch oil and other insulating oils. It can also be used as an adsorption device for some low-viscosity lubricants. BZ can effectively remove acidic components, free carbon, oxides, pigments, impurities, etc. in the oil. After treatment, the basic composition and oxidation resistance of the oil are not damaged, and the dielectric properties of the insulating oil are restored. The regenerated transformer oil is clear and transparent. The cost is 90% less than the traditional way of replacing new oil.
  Product parameters:
  Product optional configuration:
  1. Optional imported online moisture detector and breakdown voltage tester.
  2. Optional fuel gun, ordinary flow meter and digital display flow meter.
  3. The color of the body can be optional blue, green, white, etc.
  Product parameters: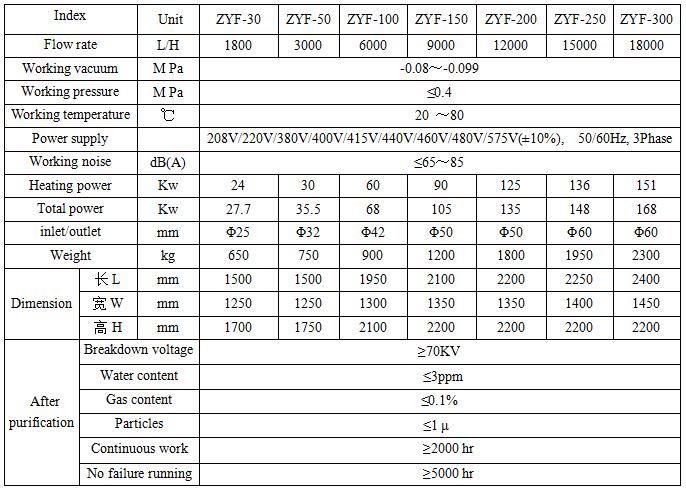 Equipment quality requirements, technical standards: strictly in accordance with the national quality standards, technical standards, inspection standards, after passing the factory, the goods provided are brand new and unused. The whole machine is guaranteed for 3 years. During the warranty period, three guarantees will be implemented for major equipment problems. Any abnormal problems will be handled by the supplier free of charge. If it occurs outside the warranty period, the supplier will provide lifelong free technical services and only charge the cost of accessories.
  Material selection of the whole equipment: the main body of the whole machine is high carbon steel, and the consumables are stainless steel sheet mesh filter materials (which can be cleaned and reused for many times). The main body can choose stainless steel material for oil pipeline according to the user's requirements. Domestic or imported brands can be selected for oil pump and electrical related main components, or explosion-proof is required. Imported filter element or designated brand can be used for filter element.
  Chongqing Zhongjing Filter Equipment Manufacturing Co., Ltd. packing: conventional fumigation packaging for wooden box export, and the equipment meets the requirements of long-distance transportation at home and abroad.
  Equipment transportation mode: automobile, aircraft, ship logistics transportation, the company will replace and repair the goods free of charge until customer satisfaction.
  Chongqing Zhongjing filtration equipment manufacturing Co., Ltd
  Manager Zhang 0086-18580036904 (wechat same number) 0086-02386194345
  Supply cycle: the standard type is available in stock.